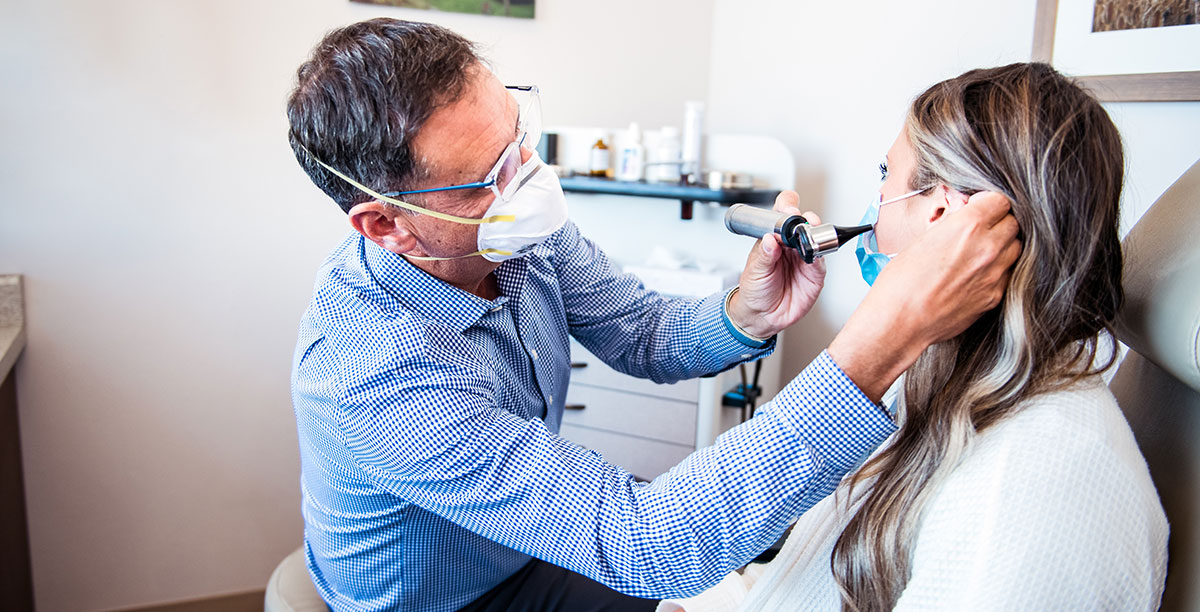 At Helena ENT Clinic, our physicians are dedicated to providing excellent care to patients of any age. We are passionate about Otolaryngology and look forward to providing the best treatment plan possible, for all your ENT needs. The most common ear conditions include ear infections, tinnitus, hearing loss, chronic ear pain, and perforated eardrums. If you're experiencing ear pain, hearing loss, or having issues managing any or more of these conditions, try Helena ENT Clinic.
An ear infection, or otitis media, occurs when fluid becomes trapped in the middle ear following a viral or bacterial infection. This painful affliction is most common in children but can affect people of all ages. Ear infections can be either acute (of short duration) or chronic (persisting or reoccurring frequently). Although these infections are relatively easy to treat, a person who has multiple ear infections that do not heal easily or patients who show signs of hearing loss or speech delay may be a candidate for ear tube surgery. During this surgery, small tubes are placed in the eardrums to ventilate the area behind the eardrum and keep the pressure equalized to atmospheric pressure in the middle ear.
Meniere's disease is a disorder of the inner ear that can lead to dizzy spells or a sensation of spinning motion (vertigo) and potential hearing loss. Meniere's disease can occur at any age, but it usually starts at middle-aged adulthood. Although Meniere's disease is considered a chronic condition, various treatment strategies can help relieve symptoms and minimize the disease's long-term impact on your life.
The primary signs and symptoms of Meniere's disease are:
Recurring episodes of vertigo. Vertigo is similar to the sensation you experience if you spin around quickly several times and suddenly stop. You feel as if the room is still spinning, and you lose your balance. Episodes of vertigo occur without warning and usually last 20 minutes to two hours or more, up to 24 hours. Severe vertigo can cause nausea and vomiting.
Hearing loss. Hearing loss in Meniere's disease may fluctuate, particularly early in the course of the disease. Eventually, most people experience some degree of permanent hearing loss.
Ringing in the ear (tinnitus). Tinnitus is the perception of a ringing, buzzing, roaring, whistling, or hissing sound in your ear.
Feeling of fullness in the ear. People with Meniere's disease often feel aural fullness or increased pressure in the ear.
A ruptured or perforated eardrum is defined by a hole or tear in the thin tissue that separates the ear canal from the middle ear (eardrum). A ruptured eardrum can result in hearing loss and can make the middle ear vulnerable to infections. A number of things can cause the eardrum to rupture; one of the most common causes is an ear infection. When the middle ear is infected, pressure builds up and pushes against the eardrum. When the pressure gets too great, it can cause the eardrum to perforate.
Another common cause of a ruptured eardrum is poking the eardrum with a foreign object, such as a cotton-tipped swab or a bobby pin that's being used to clean wax out of the ear canal. Sometimes children can puncture their own eardrum by putting objects such as a stick or a small toy in their ear.
Some ruptured eardrums result from what's known as barotrauma. This happens when the pressure inside the ear and the pressure outside the ear are not equal. That can happen, for example, when an airplane changes altitude, causing the air pressure in the cabin to drop or rise. The change in pressure is also a common problem for scuba divers.
Most eardrum perforations heal on their own within 1-3 months, with the help of prescribed antibiotics or over-the-counter pain medications. In cases where perforations are slow to heal, your doctor may recommend seeing a specialist/Otolaryngology for further diagnosis and potential surgery. Helena ENT provides outpatient surgeries to help repair large perforations in the ear drum, that are not responding to treatment.